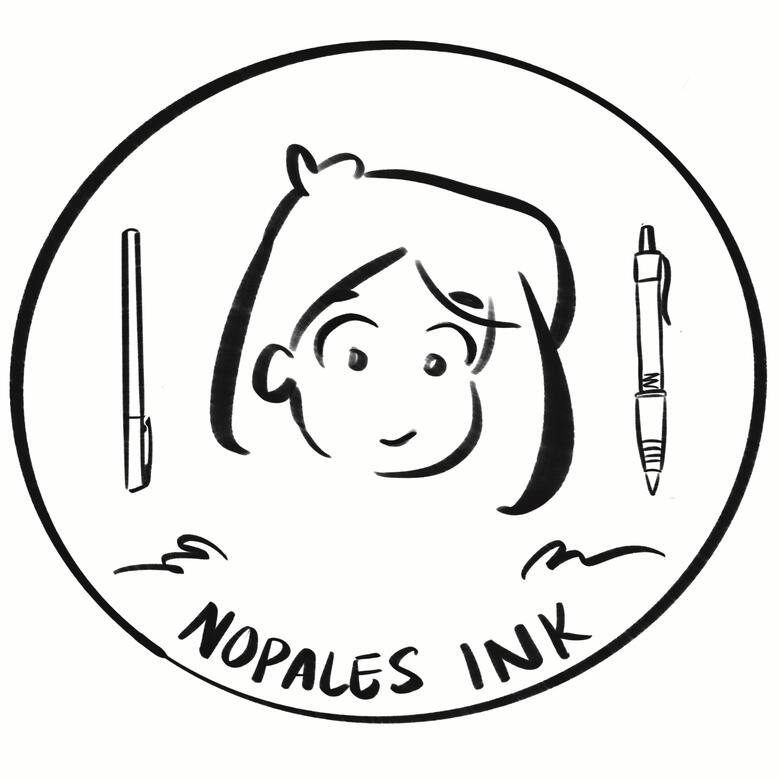 Nopales Ink
Visual Practitioner | Anti-Racism Consultant | Freelance Illustration
Fan Art
Commission digital paintings or sketches of BNHA characters (will do other anime with references)
Sketch Style
$10 Per Additional Character
$10 for background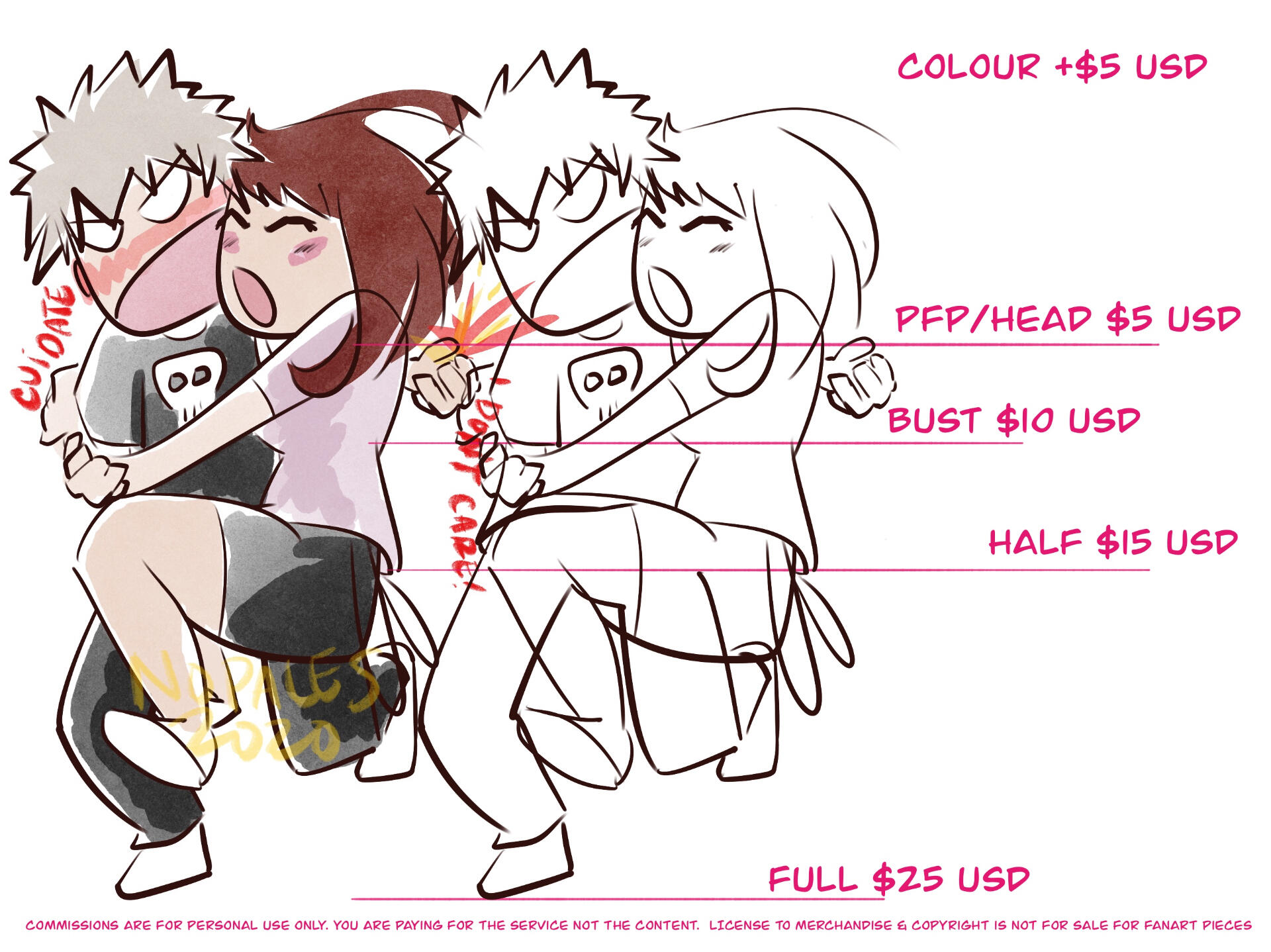 Head / PFP
Line & Color
$10
Character
Sketches / Doodles
$10Linework & Color
$25 Bust | $35 Waist
Full Body
Line & Color
$60
Full Color & Background
Start at $100+
Comics start at $150
Animated GIFs start at $150
Final price depends on scene complexity or panel and frame quantity
Digital paintings of your story. The process begins with consultation to determine scenes or characters, thumbnailing, sketch, line-art, to color rendering before final delivery.Rates Vary
$60 to $100 per hour(Style varies depending on mood/tone and look you're going for. The following are examples of a cartoon style meshed with realism)
Pet Portraits
Commission digital paintings of your constant companions
$15 Sketch | $30 Headshot | $45 Full | $65 Studio Style Portrait
Sketch Style
Headshot Style
Full Body
Environments & Landscapes
Commission traditional or digital paintings of urban, interior or concept landscapes from reference or photo.
| $50 Poster Colour 5x7 (5R) | $60+ for larger canvas sizes (must discuss beforehand)
| $45 Digital (4R, 5R, A4) |
Please message for other sizes or for concept (made up story/locations)
Visual Concept Breakdown
Graphic facilitation through a history or example visual concept breakdowns of racism and oppression as it relates to various topics.Rates Vary (depends on research required, content and timeline)
Contracted by or Presented for:

Tacoma Tree Foundation

Stormwater Community of Interest of the Puyallup Watershed Initiative (image on right)

University of Puget Sound - Tacoma Talks; Wasted Film Event;

Amara (image on left)

One Girl, Better Systems Townhall with Justice For Girls (2022)
Draft Business & Branding
Draft business and branding services are provided on a first-come-first-serve-basis. Prioritizing Black/African Indigenous diaspora folks from any nation or community, but in particular people who are low income.
We cover the basics for:
Cashflow
Messaging & Marketing
Landing Page Creation
Draft Branding
These services are not meant to replace the consultation and services of a graphic designer or branding professional. This service is meant to get clients on the path to business feasibility & readiness.
These services are covered by profits associated with Nopales Ink's Visual Practitioner consulting.
Nopales
Nopales (disconnected hñähñu) is a visual practitioner & illustrator with a passion for food systems, community development and racial justice. They help community members to build sustainable anti-oppressive projects, programming & businesses, and also create visual concept breakdowns of racism and oppression as it relates to various topics.Nopales Ink is a business that is grounded in anti-racist and anti-oppressive action. Profits regularly support African diasporic & Indigenous people and movements.
Creative Community Support Funds
Nopales Ink is committed to the long-term support of Black/African, Indigenous people. We regularly save 25% of each commission pay (after taxes) to give back to community. In some cases, the content of the commission facilitates the needs for up to 100% of profits to return to a specific community or project.Next Support Release Date: January 15, 2023If you are in the Puyallup Watershed area (Mt Tacoma to the port) and a Black/Indigenous creative or working on the maintenance or support of your nation or community, please contact for support getting materials or resources for your family, community or work.Si eres una artista Negra/Afro Indigena/Afro-latine y otra persona Indigena en los EE.UU; o si estas trabajando apoyar tu comunidad o nación, entonces email con su solicitud. Mi español es malo pero puedo pruebar contigo, esta bien 😂.
Mexicanos puede preguntar también. Pero, por favor, escribes el nombre de su comunidad. Como, "hñähñu," o el pueblo/rancho/ciudad, y el estado como, "Otomí de Juventino Rosas, Gto." Esto apoyo es para SÓLO personas indigenas / afro-latines / afro-mexicanos.Community & Creatives Support:
website hosting fees
domain name
groceries and care packages
Small cash amounts (venmo, paypal, cash app, ko-fi, or wire to major banks in mexico)
materials (books, art supplies, fees)
equipment (depends on cost, larger items might surpass resources available so message to check!)
workshop fees classes (cursos como Domestika, o con artistas independientes etc)
language classes etc.We also support food sovereignty needs so if you or your community are in need of seeds, plants, or farm inputs and small equipment - please reach out.I release dates and amounts available in the pool once a quarter when possible or twice a year depending on number of commissions. The next expected date for available funds is October 2021. Support is available based on the profits from completed contracts.If you have bigger projects you want to get off the ground, my capacity is limited but I can always look for connections or support in other ways. Email me: byanez@nopales.ink
Previous Release Sept 2022:
Never Alone (community events and support services) - logo purchased
Aiming Higher (youth oriented education and career focus, and adult focused inequitable system navigation) - logo purchase
Gloria Joy (writing workshops) - 1 year pro Carrd.co subscription
Lion Iron Fitness (community-based fitness, nutrition & cooking) - logo purchase